If you are in the market for a new driver, then you'll want to read through our TaylorMade Sim2 Max Driver review as carefully as possible. This driver is very similar to other offerings from TaylorMade, especially their SIM2, which is used on the PGA tour. The big difference between the two, however, is that the Max driver is much more forgiving, which makes a great option for the majority of players.
Specifications
Hand orientation
Right or Left
Flex
Regular, Stiff, Extra Stiff, Ladies, Senior
Configuration
10.5, 9.00, 12.0 degrees
Taylormade Sim2 Max Driver Review
If you were looking for one word to describe this driver, it would be forgiving. In fact, the company lists this driver in their "Highest Forgiveness" category. This makes it a great option for anyone that is looking to lower their handicap. It is also described in the company's literature as a "Mid Launch" driver.
Overall performance and functions
The larger than average head design provides excellent performance, no matter if you hit right in the middle or off-center, which is extremely helpful. These features, along with its Speed Injected Twist Face and Forged Ring Construction, help to make the SIM2 Max Driver an exceptional option for anyone that is looking to up their game a bit.
This is especially true if you are someone that is looking to add a bit more speed to your drives. The higher launch angle that this driver affords you will give a larger amount of speed to your drives. The design of the head of the driver will also add more spin to each drive as well, which will allow the ball to travel a greater distance through the air. This driver comes in three different lofts, which are 9°, 10.5°, and 12°. Each loft level will give your shots a good boost into the air, though the 12° will obviously give you the most. Something to bear in mind is that, while this driver can be purchased for both left and right shooters, the highest loft is not available to lefties.
Construction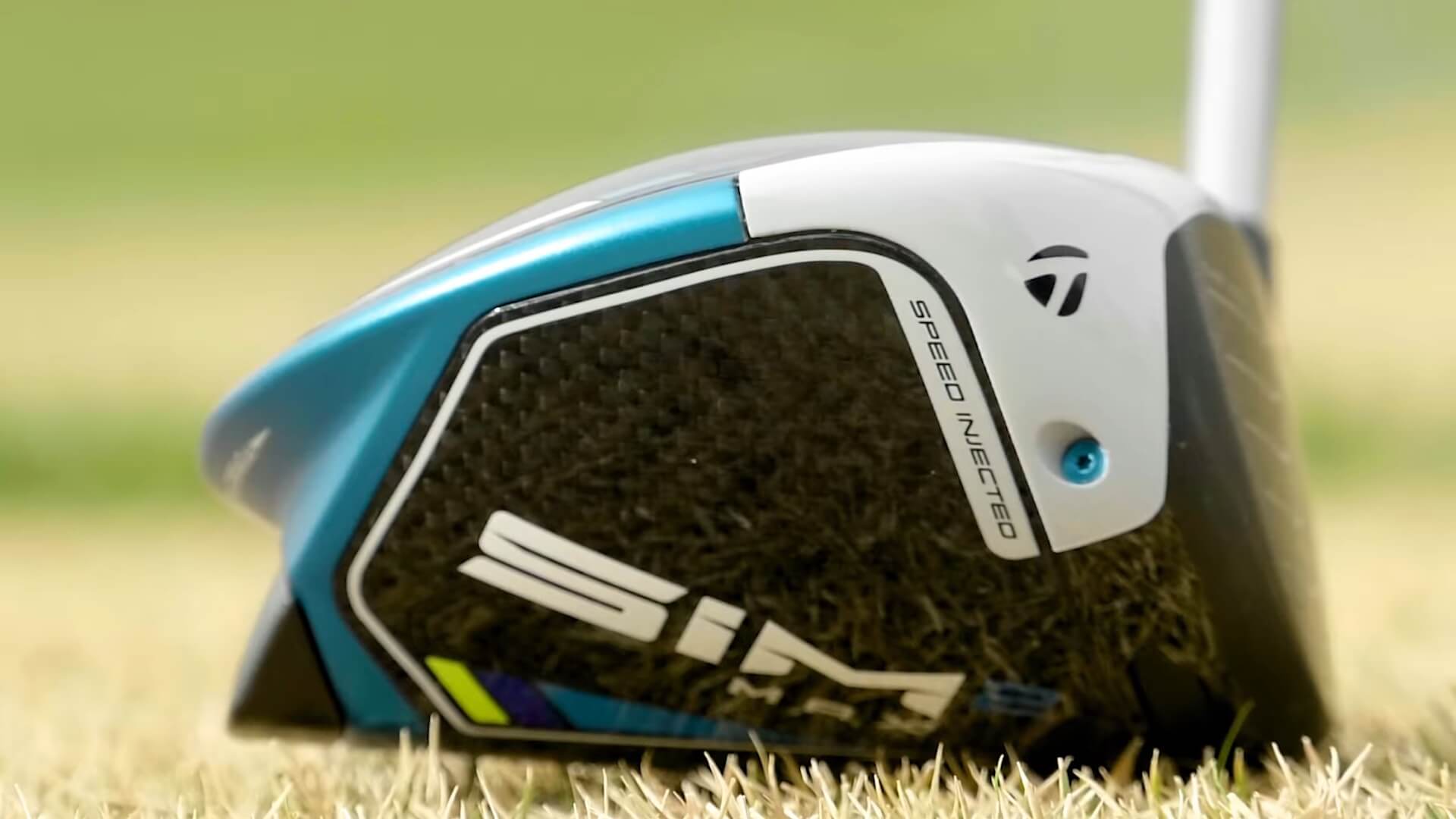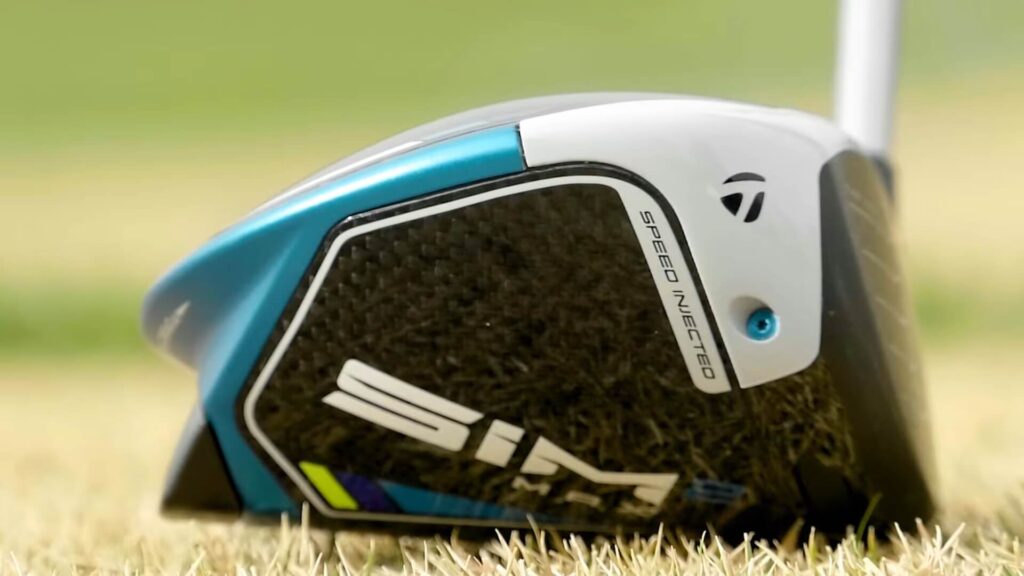 Overall, the construction of the Sim2 Max Driver is slightly larger than other clubs from TaylorMade. This is, of course, to be expected since this model is designed to be as forgiving as possible. At the back end of the driver, you will find a 24-gram tungsten weight. This is part of the Inertia Generator, which helps to shift the center of gravity back a bit, which provides a higher launch, more spin, and a lot more forgiveness.
Each Sim2 Max Driver comes equipped with a loft sleeve, which allows you to adjust the loft, face angle, and lie. Thanks to this ingenious system, there are 12 different sleeve variations that you can utilize to adjust the driver to your needs.
The shafts that come with this driver are made out of graphite and are designed to provide as high of launch as possible. They also come in a variety of stiffnesses, which include Regular, Stiff, Extra Stiff, Ladies, Senior depending on the needs of the player.
Weight
The weight at the back of the head of the Sim2 Max is exactly 24 grams, thanks to a tungsten weight. There is also a smaller weight on the lower end of the sole of the driver to provide a balanced feel to the head of the club. This weight provides the level of forgiveness that is not seen in the standard Sim2 Max from TaylorMade, which only weighs in at 16 grams. This extra weight provides more momentum on each swing, which allows for off-center shots to still travel the desired distance. This is highly advantageous, as it serves as a backup if you are not on your game.
Of course, this extra weight will take a bit of getting used to. This is especially true if you are someone that has a faster swing with lighter drivers. You will need to make sure that you take the time to practice plenty on the driving range before you head out to the course, as your swing might need some time to acclimate to the higher weight of this driver.
Trajectory
This model is said to create around 200-300 more rpm of spin than the standard SIM2 from TaylorMade. In fact, the company states that you should get around 2600-2800 rpm of spin out of each of your drives. The overall trajectory of your shots is going to depend on the angle that you select for the loft, of course.
The loft sleeve will also come into play for the trajectory as well, as a smaller loft or higher loft might have a negative effect on the overall trajectory of your shots. As with anything else in the world of golf, it is best to practice as often as you can so that you understand your swing style and how it works best with this driver.
Forgiveness
As we have mentioned previously, forgiveness is the name of the game when it comes to the SIM2 Max. This style of the driver is perfect for anyone that has a high handicap. In fact, the Max in the name actually stands for maximum forgiveness. As such, you should not be surprised when using this driver if even your mishits seem to travel your desired distance and land in the right location.
The weighted back for the driver makes sure that the momentum is carried through on each swing, even if you do not get the hit precisely where you would like to go on the head of the driver. To put it as simply as possible, this is most like the most forgiving driver on the market today, making it a great purchase for anyone looking to take their game up a notch.
Distance
While the Sim2 Max is a highly forgiving driver, that does not mean that it only helps with shot placement. In fact, this is a great driver to help you get a bit more distance out of each of your shots as well. This is thanks to a variety of factors. The first is, obviously, the overall weight of the driver. Weighing in at 24 grams, this head is a bit heavier than its competitors, which provides the force necessary to really drive the ball downrange. The split style of this weight also helps to create enough momentum to put out a ton of force, which adds to the overall distance of your drives.
Another big advantage that this model can offer you over other drivers on the market is the design of the driver's head. TaylorMade's patented Inertia Generator design is built to be as aerodynamic as possible. While you might not think too much of drag when you are teeing up, it can play a huge factor in the distance of your drives. As such, this design helps to cut down on any air drag that might have otherwise kept your drives from going the proper distance.
Durability and warranty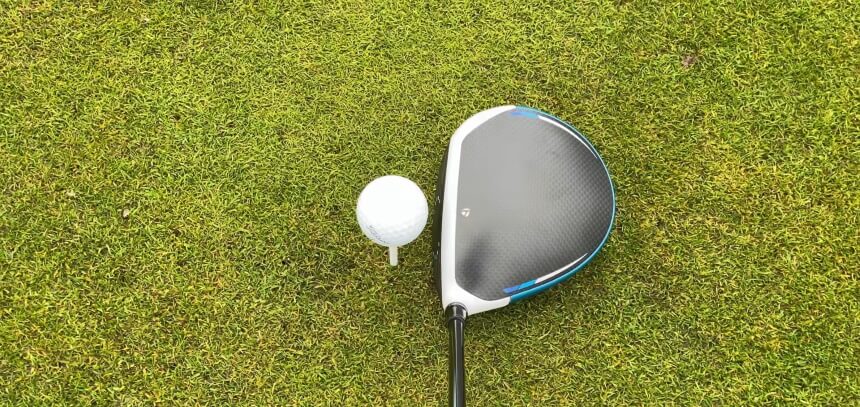 TaylorMade, like Titleist, has been crafting quality clubs and drivers for over forty years, making them one of the most reliable brands on the market today. As such, you can rest assured that your new driver is going to stand the test of time.
The aluminum head is machined for durability and precision, while the graphite shafts provided with the driver are also quite strong and durable.
Of course, accidents might happen, even if you are using your driver correctly. Luckily, TaylorMade offers a 2-year warranty on all of their clubs. You just need to make sure to register the driver upon purchase and hold onto the original receipt. That way, if anything should happen to your clubs while you are using them, you can get them replaced quickly and easily through the company's online forms.
Price tag
There are no two ways about it, the TaylorMade SIM Max 2 is an outstanding driver that any golfer would love to have in their bag as they hit the links. The downside of that is, of course, the overall purchase price. This driver is not going to come cheaply, thanks to its outstanding design features and overall quality craftsmanship. As such, you should be prepared to pay around $500 for just one driver. While the price might seem a bit steep at first glance, it is more than worth its weight in gold when you are on the golf course. Obviously, if you are in the market for something not quite as expensive, then you should read through this list of the best drivers under $300.
Key features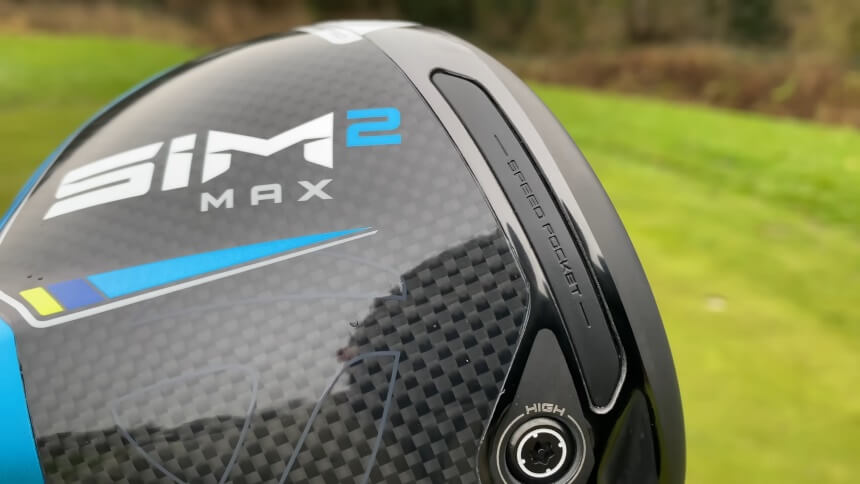 There are several key features that the TaylorMade SIM Max 2 brings to the table. These include the following:
Split Mass Weighting – This driver has a split weighted system. This consists of a 24-gram tungsten weight on the rear of the driver and another smaller weight on the sole.
Asymmetric Inertia Generator – This design feature keeps the head as aerodynamic as possible through your entire swing. It also shifts the center of gravity backward a bit so that you have increased stability during your swing.
Forged Ring Construction – The head is encircled in a lightweight and durable aluminum alloy. This saves on weight and improves the degree of forgiveness exponentially.
Thru-Slot Speed Pocket – This feature provides a lot more flexibility, all while increasing ball speed and forgiveness lower on the face of the driver.
Speed-Injected Twist Face – The twist face design of the driver helps to correct any shots that might be off-center. This is combined with injections that bring the speed of the driver up as much is allowed within the realms of competitive play.
PROS
CONS

Highly forgivable
Flexible
Increased ball speed and spin
Durable
Increased distance on drives
Extremely stable
Conclusion
Hopefully, you have found this TaylorMade SIM Max 2 driver review to be informative and useful in your decision to purchase this wonderful driver. We have no doubt that you will soon be hitting your balls farther than ever before with more precision and accuracy!